THE CALL & COMMISSION OF APOSTLE NUMBERE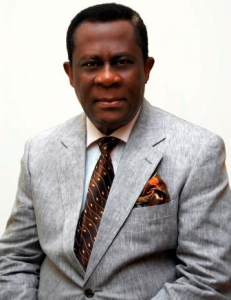 Apostle Geoffrey Dabibi Numbere was born again on Sunday, 11 May 1969 at the Chapel of the Ibadan Campus of the University of Ife (now Obafemi Awolowo University) through a powerful sermon preached by Rev (Dr.) Mike Oye. Apostle Numbere was then a geology student. Shortly after his conversion, a prophet of God, Pastor S. G. Elton, came to the campus. An elderly British missionary, Pastor Elton was a father and mentor to virtually all the indigenous pioneer Pentecostal and evangelical Ministries that God raised up in Nigeria in the early 1970's.
Pastor Elton prophesied over Apostle Numbere that God called him to serve Him and to be an instrument of deliverance to his people in Rivers State. But Numbere, being a young convert, did not understand and therefore did not take him seriously. On 3 March 1970, while he was on his knees praying, he had an hour long vision in which the Lord Jesus Christ appeared to him and took him up to three heavens. At the Lord's prompting, he looked down and saw a vast open plain field, jam-packed with human beings in a stooping kneeling position with their faces on the ground (like the posture of Muslims in prayer). As they went up the plain, the crowds increased with each tier. At the second tier as he saw the crowd, he became afraid and began to run away as fast as he could. The Lord allowed him to run out his strength. Then he picked him up, brought him to His side and took him up to the third tier.
Then the Lord spoke to Apostle Numbere to look again at this crowd and said to him, "These are all my creatures that are perishing. It is not my pleasure that as many as these of my creatures should perish". Apostle Numbere asked the Lord, "What would you want me to do?" "Go, raise their faces that they may look up to me and that they might live," replied the Lord. To another question as to where he might start from, the Lord replied, "Anywhere". The Lord's parting words to him were, "I have chosen you, but be humble."
Apostle Numbere came out of this vision and discovered that he was still on his knees in his hostel room. One full hour had lapsed and he had missed his lectures. He sat back on his bed, pondering over this vision over and over again. All interest in academic pursuit was lost and he knew his days in the University were numbered. He left the University at the end of the session and went up to northern Nigeria and picked up a teaching appointment in the wilderness of Gumel, Kano State (now in Jigawa state) a predominantly Muslim enclave. There, he led many souls, especially Muslims to the Lord and started the first Christian church in his pallor which he later handed over to the Evangelical Church of West Africa (ECWA). He returned to Port Harcourt (Capital of Rivers State) after a three-years sojourn in the North. The Lord appeared to him several times, teaching and instructing him of the great task ahead.
On December 6th1972 (again while on His knees praying), he received the emblem: the globe, with a cross spanning it and dropping on Africa, with Nigeria in the centre. The words of the Ministry's anthem are as follows: "To know Jesus and to make Jesus Known; To make Jesus known to the whole wide world; To know Jesus and to make Jesus known; I will make Jesus known everywhere." 
The vision was clear – Greater Evangelism has three main phases of her mission just like the vision of Apostle Numbere's call in which the Lord took him to three tiers of heaven. The Ministry is to span over Nigeria, Africa and the rest of the world. With just the scanty clothes on him and a raffia bag containing his Bible and tracts as his only earthly possessions, he struck out to the field, beginning with Rivers State, his own Jerusalem and Judea.
CALLING AND COMMISSIONING:
Apostle G. D. Numbere was called and commissioned by God, while he was a geology student at the University of Ife. In absolute obedience, he abandoned his cherished academic career to answer the divine call of God to which he devoted all his passion, strength and resources for 45 years (1969 – 2014). During this period, he took the gospel to many countries in Africa, USA, Europe and the Far East.
The founding Father and founding International Director of the Ministry of Greater Evangelism World Crusade, who pioneered, indigenous Pentecostal evangelism in the North and in the old Rivers State (now Rivers and Bayelsa States of Nigeria).
He was a Bible teacher, and extraordinarily bold and fearless preacher. He affected many lives through his books, newspaper articles, radio and Television program: "Caught Up", etc. He was also one of the founding fathers of the Christian Association of Nigeria, Rivers State and South-South Nigeria.
FAMILY LIFE:
He lived a happy and successful family life. God blessed him and his wife: Pastor (Dr.) Nonyem E. Numbere – a medical doctor, author and conference speaker with five children and grand-children.
MINISTERIAL DATE-LINES:
Founded the first church for Evangelical Church of West Africa in Gumel, Jigawa State (1970-1972).
On the 9th of September 1972, in the course of an all-night group prayer meeting in Port Harcourt, the name "GREATER EVANGELISM CRUSADE" was repeatedly mentioned by the Lord in his ears. At the end of the prayer meeting, this message was shared and GREATER EVANGELISM was born that very night.
Pioneered Missionary work and Pentecostal evangelism in the rural areas of the eastern Niger Delta; amidst much oppositions and persecutions, hardships and trials, he took the gospel to the downtrodden, under-privileged, forgotten and sometimes very remote dangerous communities of the numerous islands and villages of Rivers and Bayelsa States (from 1972). Within the same year, he embarked on missions and outreaches to various States of Nigeria.
Carried out missionary outreaches and crusades to almost all the tertiary institutions in Nigeria (1973-1985).
Carried out missionary outreaches and church planting in Sierra Leone in Freetown and suburbs (1994); Kampala and mountainous villages of Uganda – Kyegegwa, Kyarijumba, Kyemengo etc. (1995); Rwanda (1995-1998); Goma, Republic of Congo (1999), Burundi 2001; Benin Republic (2004).
Missionary trips as Guest Speaker on MV LOGOS II to Las Palmas (Gran Canaria), and Tenerife (Santa Cruz) – 2002.
Missionary trips on MV Doulos as Guest Speaker to Benin Republic, Guinea, Ghana, Sierra Leone and the Gambia (2005).
Missionary trips to USA, Europe, South Korea (Seoul), West Indies, Kenya, Ghana, Burkina Faso, Cameroon, South Africa (1974-2012).  
RADIO AND TELEVISION BROADCASTS:
Apostle Numbere used varieties of media, such as: National and International Radio and Television stations to reach-out to wider audiences of diverse colors and races with the gospel, some of these include:
Radio Ministerial Broadcast, Des Moine, Iowa via Kingsway International Fellowship USA. (1988).
Trinity Broadcasting Network, New York USA (2001);
Christian Radio Network, Bujumbura Burundi (2001).
Caught Up Radio/Television Liberia and Sierra Leone (from 2009).
Nigerian Television Authority (NTA) 1981-1983
Rivers State Television (RSTV) Nigeria
Radio Rivers FM, Nigeria
Broadcasting Corporation of Oyo State (BCOS), Ibadan Nigeria;
Africa Christian Broadcasting Network (ACBN).
APPOINTMENTS, AWARDS AND RECOGNITIONS:
Apostle Numbere, had many national and international appointments, awards / recognitions, and served his State (Rivers State) and Country (Nigeria) in various capacities, some of which are:
APPOINTMENTS:
Secretary – "INIKIO", the association of Rivers State Students – 1961. "INIKIO" is an acronym for: Ijaw, Nembe, Igbani, Kalabari, Inkontoru and Okrika. "INIKIO" students served as a pressure group to agitate for the creation of Rivers State even before the Nigerian Independence.
Secretary General, Africa Hour World Evangelism (AHWE) – 1978.
Trustee, Board of Directors of the Nigerian Institute for Christian Studies (IICS) – 1991.
Dedication of Rivers State to God, 1992.   At the 25th Anniversary of Rivers State which held from 24th to 31st May 1992, Apostle Numbere was given the honour and privilege to be the vessel of God to dedicate the entire State to God. In commemoration of the event, Chief Ada George (the then Governor of State) placed a sculpture of the map of Rivers State with a plaque on which was written, "In Dedication to God and to the nation", and a second sculpture of a pair of hands at the top of Point Block, the highest building in the State.
Member Rivers State 25th Anniversary Celebration Committee – 1992.
Chairman Thanksgiving Service Subcommittee Rivers State 25th Anniversary Celebration – 1992.
Member, Governing Council of Rivers State College of Education – 1992.
Member, Rivers State Government Committee on Moral and Religious Institution – 1992.
Member, Eminent Persons Commission (an aftermath of June 12, 1993 Presidential Election Crisis) – October 1993.
Member, Congress On Christian Ethics in Nigeria (COCEN) – 1995.
Chairman, Abua Peace And Reconciliation Committee, 2003. This committee brokered peace between two warring communities in Abua, Ogbema and Amalem and a peace accord signed on 26th January 2004.
Member, Agency for Re-orientation, Integrity Service and Ethics (ARISE) 2003.
Secretary, Christian Association of Nigeria (CAN) Rivers State, 1986 – 1996; 2000 – 2007.
Pioneer Chairman, South-South Zone, Christian Association of Nigeria (CAN), 2006 – 2012.
Chairman, Christian Association of Nigeria, Rivers State, 2007 – 2010.
Member of BOT, Christian Solidarity Worldwide Nigeria, 2008.
AWARDS AND RECOGNITIONS:
One of 5,000 (five thousand) World Personalities, Award by the American Biographical Institute, Inc. (1988).
"Man of the year, 2003" Award on Rivers State Television's (RSTV's) 'The Globe In Sixty Minutes' – (2003).
Leadership Award by Pentecostal Fellowship of Nigeria Rivers State Chapter (2003).
Rivers State Productivity/Merit Award – (2004).
Man of the year Award by American Biographical Institute Inc, (2008). 
Inclusion of name in the Dictionary of International Biography, 34th editions by the International Biographical Centre Cambridge England (2008).
21st Century Award for Achievement by International Biographical Centre (2008).
Great Minds of the 21st Century Award for Evangelism in Africa by the American Biographical Institute Inc, (2007/2008 Edition).
Hosting of Celebration of 400 years of King James Version Bible in Port Harcourt (2011).
Gift presentation of copy of Genesis Chapters XVII-XVIII, 1611 King James Pulpit Bible 1st Edition by West African Theological Seminary (24th March, 2011).
BOOKS AUTHORED:
I Forgive, For My Sake
The Eagle Christian
Word Killeth Word Maketh Alive
Buying Into Another Man's Vision
Symbolism in the Bible
Wake Up
Wave Offering
Spiritual Foundations – Digging Deep
Unity of the Brethren in the Local Church (Co-authored with Pastor (Dr.) Nonyem Numbere)
The Butterfly Christian 
Vain Shows Versus Practical Holiness
Look Up (A Treatise on the Soon Coming of Jesus Christ)
He wrote several Newspaper Articles on Sunday Tide, Port Harcourt, Rivers State – (1973-1986)