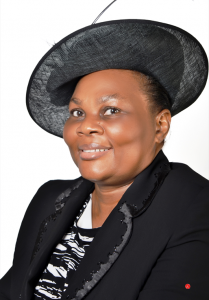 Pastor (Elder) Blessing Olori is the wife of Pastor Isaac V. Olori (the International Director of Greater Evangelism World Crusade). She is the Vice President of the GEWFI (Greater Evangelism Women Fellowship International), and the President of Greater Evangelism Ministers' Wives Association. Besides praying, divine grace is evidently manifested in her as a conference speaker and bible Teacher.
She gave her life to Christ on the 11th of April, 1987.  Her passion for true fellowship made her to join the Mile1 Church of the Ministry in 1988 where she served in the Choir and the Prayer Squad.
She and her husband pastored various local and zonal headquarters' Churches of the Ministry where she served as the women Leader and zonal women Leader, respectively.  She was ordained an Elder in January 2009 and a Pastor in March, 2009 by our founding Father and founding International Director (Apostle G. D. Numbere) of blessed memory.

Pastor (Elder) Blessing Olori studied Mass Communication at the Abia State University, Uturu, Abia State, Nigeria.  She was a staff of the Rivers State Sports Council where she retired as an Executive Administrative Officer in 2015.

She and her husband are blessed with four children (three boys and one girl).