THE MINISTERIAL JOURNEY OF PASTOR ISAAC V. OLORI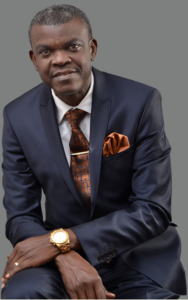 Pastor Isaac Valentine Olori was commissioned as the International Director of Greater Evangelism World Crusade on 14th of December, 2014 to succeed the Founding International Director, Apostle G.D. Numbere who personally named him as his successor before his transition.
He obtained his first and Masters' degrees in Agricultural Engineering from the Rivers State University of Science and Technology, Port Harcourt.
His encounter with Christ started in 1977 when he came in contact with Greater Evangelism World Crusade then as a Secondary School student, but he completely surrendered his life to Christ in 1982 while in his second year in the University. While in school he served among others as the Chairman of the Students' Executive management committee of the University chapel (Chapel of Redemption).
He also served as a Corper traveling Secretary with the Nigeria Fellowship of Evangelical Students (NIFES) during his National Youth Service (NYSC) and Associate Traveling Secretary with NIFES for several years.
Pastor Olori was ordained a Pastor in 1996 and a Teacher in 2009 by our father, Apostle G.D. Numbere of blessed memory.  He had served in different capacities in the Ministry including; Sunday School Superintendent, Secretary of Sunday School Editorial Board, Secretary of Kumran Bible College Board, Assistant Pastor, Senior Pastor, Zonal Minister, Secretary of the Rivers State Council of Ministers (GEWC), Registrar of Caught-Up School of Ministry, etc.
Pastor Isaac Olori was a lecturer with the Rivers State College of Arts and Science, Port Harcourt for over 20 years where he rose to the rank of Chief Lecturer.  He served as Head of Department and Assistant Director among other positions, then as a lecturer.
He is married to Pastor (Mrs.) Blessing Olori and they have four children (three boys and a girl).