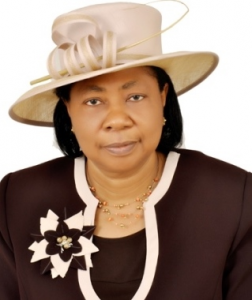 Nonyem Eziamaka Numbere, a Pastor and Medical doctor, is the wife of Apostle Geoffrey Dabibi Numbere, the Founding/Pioneer International Director of Greater Evangelism World Crusade Church. She is a Bible teacher, Conference speaker, the President of the Greater Evangelism Women Fellowship International, and the overseer of the children, teenagers and students arms of the Ministry. She was a former member of the Rivers State Judicial Service Commission.
Nonyem is actively involved in her husband's Ministry, and for many years they have laboured together in the Lord's vineyard, and have travelled round the world, preaching the Gospel, teaching and exhorting the Church. She is the author of: A Man and A Vision (a Biography of Apostle G.D. Numbere) and Greater Evangelism World Crusade: Landmarks in Her Vision and History. She is also the publisher of the Ministry's newsletter- Crusaders' voice and living testimonies (a quarterly magazine of testimonies of God's power within the Ministry). She has in no small way made ingenious contributions towards the fulfillment of the God-giving vision of Greater Evangelism World Crusade.
She and her husband are blessed with five children and grand-children.