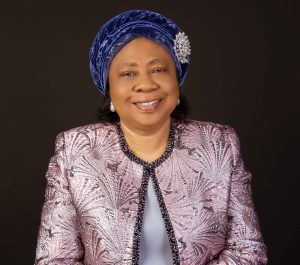 Pastor (Dr.) Nonyem Numbere JP is the President of the Greater Evangelism Women Fellowship International, the women wing of Greater Evangelism World Crusade (GEWC), an International Ministry with Headquarters in Port Harcourt,  Nigeria.
She gave her life to Christ in 1969 during the Nigerian Civil War following a spectacular encounter with Christ and all through the years has remained consistent and faithful in her Christian life, no matter the circumstances that came her way.
  A medical doctor who gave up her career in response to the call of God on her life, Pastor Nonyem is also a Bible Teacher, a Conference speaker and an author of several books that have enriched the spiritual lives of many. They include the over 500-paged A Man and a Vision (a biography of Apostle Geoffrey D. Numbere) and Greater Evangelism World Crusade, Landmarks in her Vision and History  among others.
For many  years she laboured together in the Lord's vineyard with her husband, late Apostle Geoffrey D. Numbere, the Founding International Director of GEWC, preaching the gospel and teaching the Word of God around the world.
 In the Ministry of Greater Evangelism, she is also a member of the Board of Trustees; a member of the Sunday School Board; the Overseer of the children, teenagers and youth wings, and a member of the Governing Council of Apostle Geoffrey Dabibi Numbere Memorial Bible College. She has also received many awards in GEWC for her dedicated duties in service of the Vision.
She served in the public service as a Member of the Rivers State Judiciary Service in which she served creditably for two tenures (2001-2006 and 2007-2012). She is  also a patron of King Alfred Air-Marine Foundation  and a Justice of the Peace.
She is blessed with five children and many grandchildren.